In Britain, dental records have shown that 25,812 children ages 5 to 9 have been admitted to the hospital for multiple tooth extractions within the span of one year. This article reports on how the figures might be pointing to a correlation between diet and tooth decay in the demographic in question.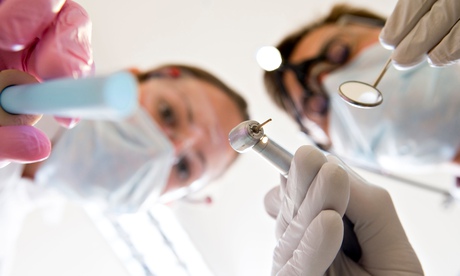 One paediatric dentistry consultant said it beggared belief that
children's diets could 'produce such a drastic effect'.
Image Source: theguardian.com
The number one reason for primary-school-aged children being admitted to hospital is to have multiple teeth taken out, newly released figures show.
The number of children aged from five to nine needing hospital treatment for dental problems rose by more than 3,000, according to figures analysed by the Health and Social Care Information Centre.
The research, published in the Sunday Times, has been described as shocking by a dentistry professor and a consultant in paediatric dentistry said it "beggars belief".
Provisional figures for the period 2013-14 show that 25,812 children from that age group have been admitted to hospital to have multiple tooth extractions, up from 22,574 three years previously.
Kathryn Harley, former dean of the faculty of dental surgery at the Royal College of Surgeons, told the paper: "We have children who require all 20 of their baby teeth to be extracted. It beggars belief that their diets could produce such a drastic effect."
Harley said many of the children presenting with problems could need four or even eight teeth out, with "quite a few" having as many as 14 extracted.
Some dentists observe how decay progresses in baby teeth because there is uncertainty about the effectiveness of fillings, said Prof Jimmy Steele of Newcastle University.
"A lot of dentists are unhappy about taking out teeth generally," he told the paper. "They certainly don't like to take kids' teeth out."
The number of children aged from newborn to four admitted to hospital to have teeth out has also increased, from 8,060 in 2010-11 to a provisional figure of 8,758 in 2013-2014.
Other key findings show that one in 20 (5%) girls aged from 15 to 19 being treated by a consultant was in hospital as a result of intentional self-harm, while boys were more likely than girls to have been injured in an assault (2%).
Similar differences were also apparent for 10- to 14-year-olds, but they were more pronounced for the older age group. There were more similarities in children up to the age of nine.
There were a total of 2.5m finished consultant episodes (FCEs) in the 12-month period from July 2012 to June last year for children aged up to 19, a very small increase of 0.1% on the previous 12 months.
Domenick Coletti, DDS, M.D., performs both corrective surgical and maintenance procedures to ensure the oral and dental health of his patients within and around the Maryland area. For dental health updates and tips, subscribe to this Facebook page.